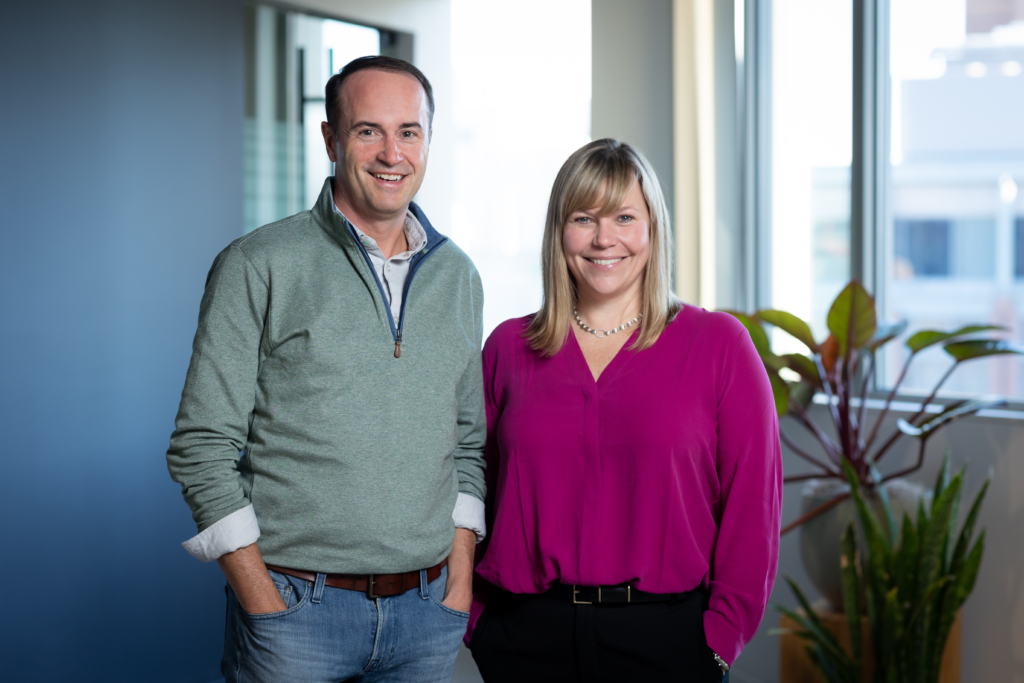 Last week, we announced that Jeff Albers, our Chief Executive Officer (CEO), has decided to step down and move into the position of Executive Chairman, beginning in April.
Culminating a thoughtful, long-term succession planning process, our Board of Directors has elected Kate Haviland, who has served as our Chief Operating Officer and Chief Business Officer since 2016, as Blueprint Medicines' next CEO. In addition, Christy Rossi, our Chief Commercial Officer who has overseen our multiple successful commercial launches to date, has been promoted to Chief Operating Officer. Read our full press release, available here.
Following are personal reflections from Jeff and Kate on last week's announcement and the exciting year ahead for Blueprint Medicines.
Jeff Albers, Chairman, President and CEO:
"Eight years ago this week, I met two board members, Dan Lynch and Alexis Borisy, to learn about a small, preclinical company called Blueprint Medicines. In my wildest imagination, I could not have believed the opportunity that would unfold from that meeting over the ensuing years. As I look back at the wonderful experience that followed leading Blueprint Medicines, I'm immensely proud of all that we've accomplished in our efforts to change lives.
We are the first company to achieve the FDA approval of two homegrown medicines within 10 years from beginning operations. These therapies are together approved for five indications in the U.S. and approved or under review for at least one indication in more than 50 countries.
In addition, as we've brought these therapies to patients, it has been incredibly rewarding to see broader opportunities come into view. Today, we have 10 precision therapies in development across our portfolio, with the potential to impact increasingly broad patient populations. Our business is exceptionally strong, with a foundation of R&D and commercial success, and our future is brighter than it's ever been.
I'm also deeply proud of our efforts to develop leaders with the passion and skill to drive our company and industry forward. I have long sought to surround myself with diverse and talented people who help me be my best, and I have committed myself to helping our employees at all levels develop their careers. The incredible strength and diversity of our Executive Team reflect these commitments. Ultimately, my confidence in this team made my decision to transition to a new role as Executive Chairman easy, as I'm able to make room for them to take on additional responsibility.
More specifically, Kate is going to be an outstanding CEO. I have known her for nearly two decades, dating back to our time working together at Genzyme. Over the last six years at Blueprint Medicines, she has been a partner to me as we charted the company's course, through both successes and setbacks, to develop Blueprint Medicines into a leading precision therapy company. She has the right experience and skillset to be our next CEO and combined with our other exceptional executive leaders, including Christy, we have the right team to lead us into the future."
Kate Haviland, Chief Operating Officer:
"I'm incredibly honored to become Blueprint Medicines' next CEO, and I'm thankful to Jeff, the Board, our Executive Team, and our talented employees for their confidence.
When I think about the work our team at Blueprint Medicines does every day, I see so clearly the impact we have had on the lives of the patients we have touched. And as we have changed their lives, we have also changed the lives of their families and the people that love them.
I think about the patient who was bedridden and considering hospice but now walks his daughter to school each morning. I think about the patient who was having conversations about end-of-life with her physician and family and now is continuing her career as a successful attorney and caring for her two children.
These are just a few of the stories we've heard that show the work we are doing is important and can have direct and meaningful impact on patients' lives. I am driven by these experiences to expand the impact Blueprint Medicines can have on many more people and families across the globe who are looking to us with hope. Hope for a future and more time – more time to be mothers, fathers, sisters, brothers, grandparents, and colleagues.
In 2022, we are exceptionally well positioned to broaden our global leadership in systemic mastocytosis, achieve a constellation of clinical data milestones for multiple new therapeutic candidates, and grow and diversify our research platform.
We will do all of this from a position of strength. Strength in our ability to bring our innovative new medicines to patients globally. Strength in the composition of our portfolio, including potential first- and best-in-class programs. Strength in our passionate and dedicated team, as well as the culture we have consciously fostered valuing innovation, transparency, and diversity and inclusion.
In the coming months, as I step into the CEO role, I will do so with a clear vision for expanding our impact on the world and a deep sense of gratitude for the opportunity to lead and work alongside our high-performing team, who are steadfast in driving and delivering medical innovation to patients."
More posts and webinars