We knew that a pattern existed, but no one was seeing it.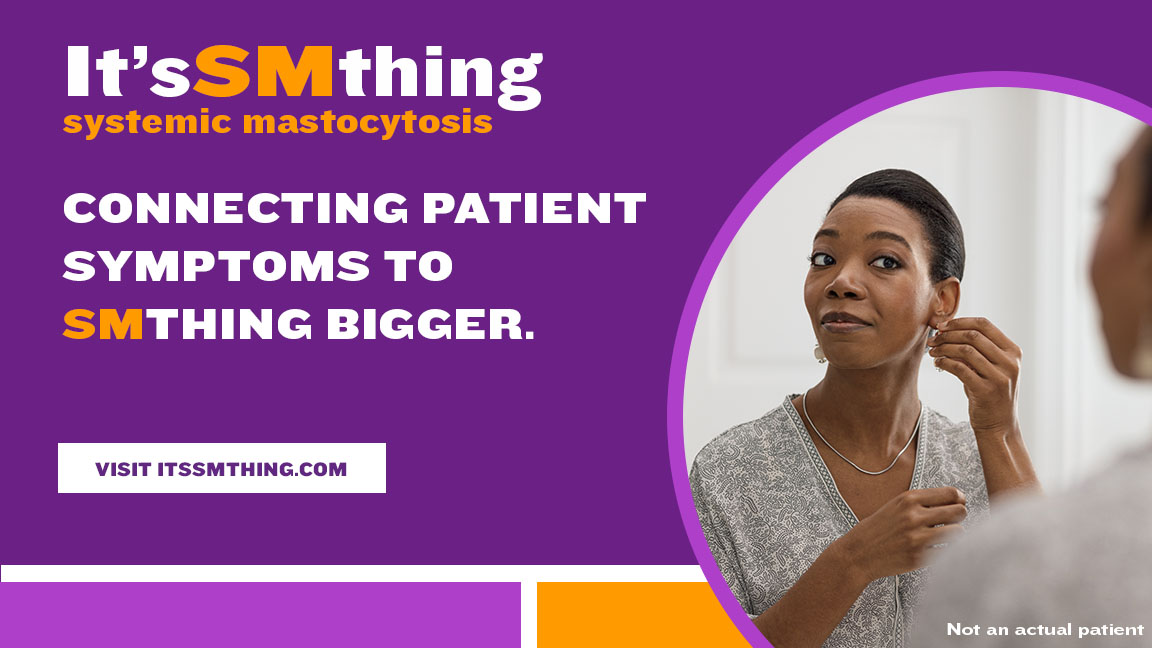 Occurring in about 32,000 people in the United States, systemic mastocytosis is a rare mast cell disorder.i Its constellation of disparate symptoms can leave patients and health care providers searching for an accurate diagnosis for months or years. Those who live with the disease may experience GI symptoms, rashes, allergic reactions such as anaphylaxis, muscle pain, and much more. They are often exhausted from their symptoms and from the endless process of seeing different specialists and being misdiagnosed.
One woman had a physician say bluntly to her, "You scare me. I don't know what to do with you."
For more than a decade, our team at Blueprint has worked closely with clinicians, patients and their families, and patient advocacy groups to advance innovative science. All too often physicians are challenged when SM patients come to them to seek care. What could we do to help patients articulate their symptoms and engage their healthcare providers in a productive conversation?
After a large-scale effort to research and work with this small and elusive patient population, our team found a way, with award-winning results:
It's SMthing, a national campaign aimed at identifying and engaging potential SM patients and directing them to their health care providers.
Within campaign development, which took more than a year, our patient marketing team conducted extensive research on the patient experience, including how patients search online for health information. They also worked with leading physicians who are experts in the disease and who see patients with SM in their practices. It did not come as a surprise that frustrated patients often turn to "Dr. Google" to try to look for solutions or other patients exhibiting the same symptoms. However, the team discovered that because patients were using a broad range of symptoms in their online searches, it was more difficult to reach the most appropriate potential patients with information about SM.
"At first we focused on individual signs and symptoms, but the insight that we uncovered was that each patient's symptoms were so different," said Aylin Utke, Director of US Patient Marketing. "Some would have diarrhea; some would have anaphylaxis. So, we decided to focus our strategy on a combination of symptoms and how SM might uniquely reveal itself across each individual patient."
A paid search and social media campaign, which we launched in March 2022, allowed our team to use complex search and media patterns alongside combinations of symptom keywords to find the most appropriate audience of potential SM patients. An example could be "stomach cramps + red skin rash" or "upset stomach + fainting."
We used this data to create digital ads that we believed would reach the most appropriate audience and introduce them to the website itssmthing.com, which features materials and resources for them. The website includes an email opt-in that allowed interested site visitors to receive information from Blueprint about SM. The website also has a quiz to help patients have meaningful conversations with their doctors about their symptoms.
The results of this outreach have exceeded our ambitious goals. At launch, we anticipated getting 600 patients to opt-in to Blueprint emails after nine months. We reached that number in only 22 days, and since then has continued to grow by 800%. With a disease this rare, and often with a long road to diagnosis, every patient who is able to understand their disease and receive help is an enormous win.
These results have earned the team a finalist nomination from the 2023 Effie Awards, which honor effectiveness in marketing campaigns. It's SMthing also won a Modern Healthcare Gold Award for Digital Health Campaign of the Year in 2022.
"The Effie Awards celebrate all business categories, not just biopharma. It felt like such a big win not just for Blueprint, but for the biopharmaceutical industry," Utke said. "To have recognition that our work had proven its impact and driven real, measurable results for the patients we serve was very meaningful."
Today, the campaign continues to have active engagement. In September 2022, the team launched a  monthly educational webinar. These events include both a patient ambassador diagnosed with SM telling their story of living with the disease and a health care professional speaker providing an educational overview of SM on Blueprint's behalf. The series has been wildly successful, each with nearly 80 registrants, and significant engagement through question-and-answer sessions and chats.
Utke said that the entire development, approval, and launch process has led to significant learnings for future campaigns.
"It's been very rewarding to be on this campaign," Utke said. "We translated complex data to design a campaign that can reach people during their search process, connect them with resources and potentially enable a meaningful conversation with their healthcare provider about their symptoms."
i Data on file. Blueprint Medicines Corporation, Cambridge, MA 2022.
More posts and webinars